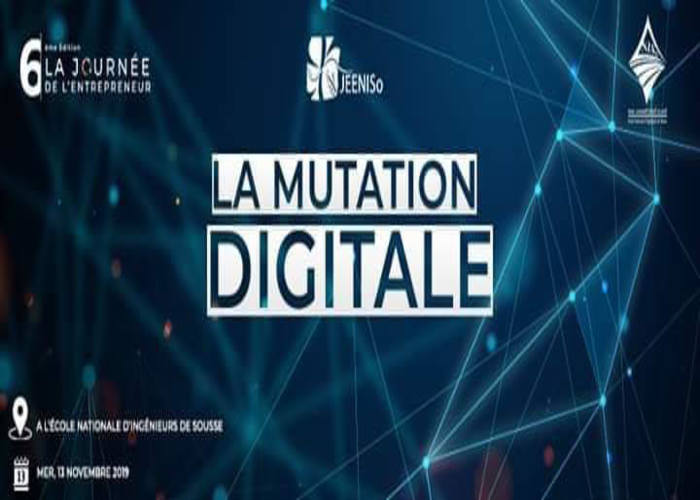 The Junior Enterprise ENISo (JEENISo) announced in a statement the holding of the 6th edition of its "Entrepreneur's Day" that will take place in the National Engineering School of Sousse (ENISo) on Wednesday, November 13, 2019.
The theme of the "Entrepreneur's Day" will focus on" Digital Mutation" which is considered as a revolution entering every aspect of the organisations and where we should no longer be talking about 'digital marketing' but marketing in a digital world.
The 6th edition of JEENISo Entrepreneur's Day is held within the framework of the Global Entrepreneurship Week (GEW) which is the first international movement that introduces entrepreneurship to millions of all ages in order to gather innovators and job creators who dream big, drive economic growth and launch startups that bring ideas and solutions to daily life, JEENISo added in the statement.
The Junior Enterprise ENISo also indicated that this year, during November's second week between 18th and 24th, GEW reaches new audiences and connects participants to a network that can help them take the next step, no matter where they are on their entrepreneurial journey.
The JEENISo "Entrepreneur's Day" will be marked by two plenary sessions. The first session will deal with "Digital transformation" moderated by Rim Bouazra, President of the Centre des Jeunes Dirigeants de Sousse, Leila Ben Belgacem Founder of Blue Fish and Achraf Ben Ouanes founder of ARSELA TECHNOLOGIES.
As for the second plenary session, it will be devoted to "Digital Entrepreneurship" moderated by Meher Ben Ameur Khlifi founder of Start-up Ahmini. Several workshops are scheduled the same day in the afternoon.
The JEENISo is a student consulting office founded in 2011 for economic and educational purposes established within ENISo and co-founded the Tunisian national confederation, part of an international network for entrepreneurship.
It aims at integrating students in a professional world and putting in practice the theoretical education that students benefit from.
Furthermore, this association highlights the dynamism, quality and creativity of its work by satisfying its customers with well-produced projects on a social, economic and educational scale given that it was given the certified ISO 9001 in its 2015 version.
Additionally, it opens up to an outside world of professionalism and dreams of a digital one where billion connected people drive innovation.
THe JEENISo is a member of the national confederation of Junior Enterprises, JET (Junior Enterprises of Tunisia)